My trusty old Craftsman 18V cordless drill/driver finally gave up the ghost over the weekend. Or, more accurately, the charger and battery packs gave up the ghost. I bought it about 3 and a half years ago (right after I bought the house). Lately the batteries hadn't been keeping a charge very well and I was expecting to have to replace them. Then, at some point over the past month or so, the charger quit working without me noticing. So when I picked it up yesterday to use it I discovered that neither battery had enough charge to even spin the motor.
A quick check of the Sears site showed that the charger could be replaced for about $12.00, but I was also going to need batteries. They had a two-pack for about $70 or a single for $45, and given that I like having two batteries (it's a royal PITA to have to wait for the thing to charge if you're in the middle of something) I was looking at over $80 to replace the batteries and the charger. At that point it seems worth it to just buy a whole new drill set. Which I think is why they make these accessories so expensive. Kind of like razor blades or toner cartridges.
Looking through the selection on the site, I came across one that got high review ratings that included two batteries for $113. What perplexed me was that the same drill could be bought as part of a drill/flashlight combo for $99.99.
Interestingly, that's just about what I paid for my current combo kit (except 18.0V instead of 19.2V). I've never used the flashlight, though (except to check that it worked).
As an aside, I took a look at some other models in the Sunday sales circulars and on some websites. Just when did power tools become so gaudy? I was reminded of this because of the contrast between the old, el-cheapo corded Black&Decker that I dragged out yesterday and the new, orange abominations that they sell.
At least this Craftsman is mostly black: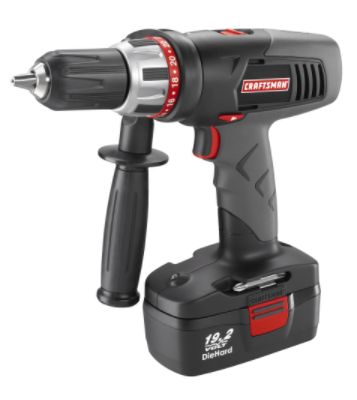 The worst offender, though, has to be this Hitachi that is on sale at Lowe's: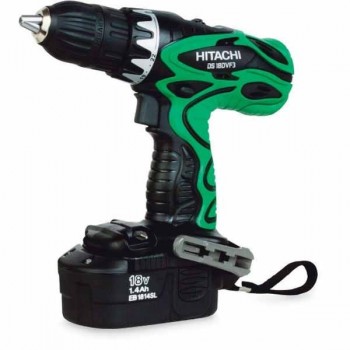 I find it interesting that the Hitachi costs $50 more than the Craftsman, though. In terms of specifications, the Craftsman is slightly ahead with 420 in-lbs torque to the Hitachi's 400. Otherwise they both come with two batteries, a charger, and a case. And both are two-speed variable (Hitachi is 0-400/0-1200 and the Craftsman is 0-400/0-1400). But the Craftsman has a distinct advantage in that it doesn't have that horrid color scheme.