I occasionally get forwarded emails about things that just aren't so (imagine that!). The latest was one that said you should refuse acceptance of the new $1 Presidential coin because it omitted the phrase "In God We Trust."
It turns out that a few seconds of research (i.e. looking at the U.S. Mint's website) would show this to be untrue.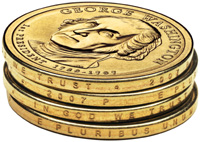 Instead of being on the front or back, they've "incused" the phrase on the edge. I suppose, in fairness, I should mention that some coins were initially released without the lettering on the edges. But this was simply the result of a mistake, not some sinister conspiracy to remove God from the United States.
Of course, there are other valid reasons to not want a dollar coin. I don't know about this new coin, since I haven't held one, but it will have to be significantly different from the old dollar coin (which was easily mistaken for a quarter by feel) before I'd accept it. And I don't particularly like having a ton of change in my pocket. Dollar bills are convenient and light in weight. And I don't know if it's just me, but the George Washington coin is kind of creepy.
Anyhow, the whole "In God We Trust" non-issue is definitely no reason to get your panties in a wad.