While I was gone I had a pet-sitter look in on the dogs three times a day. They suffer a little bit from separation anxiety because I work from home and I'm always around, so they're not used to spending a lot of time by themselves. Boots doesn't have too much problem being left alone and I've left her here for 8-10 hours without problems (although she did tear up the door frame once, but that was during a thunderstorm). Malcolm, though, had some issues when I first got him. But I thought he'd gotten over them.
So I was a bit annoyed to come home to find he'd destroyed a pillow. What's worse is that he'd been good up until the last minute. The sitter had been here at 6:00pm and there was no problem. He tore up the pillow sometime between when the sitter left and 7:30pm, when I arrived.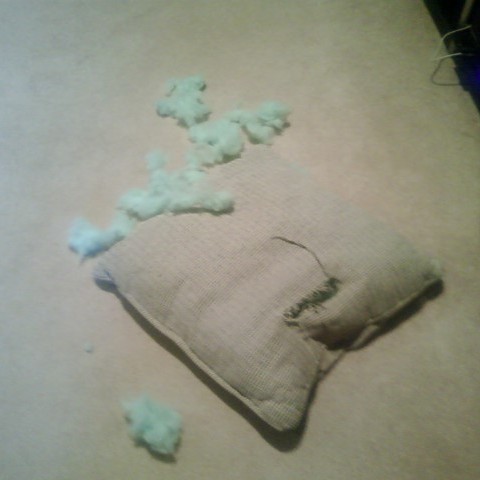 Looks like I'm going to have to take them to stay with someone else or put them in a kennel in the future if I'm going to be gone for more than a day.